Well. Here's a jacket-back, lightly felted and ready for action:
I'm pleased with it, although I have my standard, higher-than-normal level of sizing-related anxiety about making a garment for someone other than myself, with a type of fit that is different than the ones I tend to favor. The Warren Johnson jacket is being made to fit my dad, Warren's son, a good-sized guy who likes, as he says, to be able to move around in his clothes. I, on the other hand, favor a highly tailored, like-a-glove kind of fit, and the idea of over five inches of ease is kind of freaking me out. It throws off my eye to have all that extra room side-to-side; I was shocked, for example, to find that I had already reached the point where I should start binding off for the shoulders. I've been measuring and re-measuring at every step, unable to quite believe the evidence of my tape. I'm lucky that my dad lives in town, so I can compare the pieces to an actual body on a regular basis.
It's really good practice, though, and designing with different people in mind means I won't just end up making the same sweater over and over again with minor variations. The felting is so light that there's no appreciable difference in size between pre- and post-felted fabric, but there's definitely a difference in feel - post-felting, the wool is softer and sturdier. I think the colors are also just the right amount subtler; I'm extremely relieved that my pre-knitting color treatments seem to have done their job.
I've also been finding the wrong side of this fabric extremely satisfying, despite the fact that it makes a few minor errors easier to spot. Here it is pre-felting; I love the combination of tiny, fairisle-esque floats and chain-linked, intarsialike transition columns.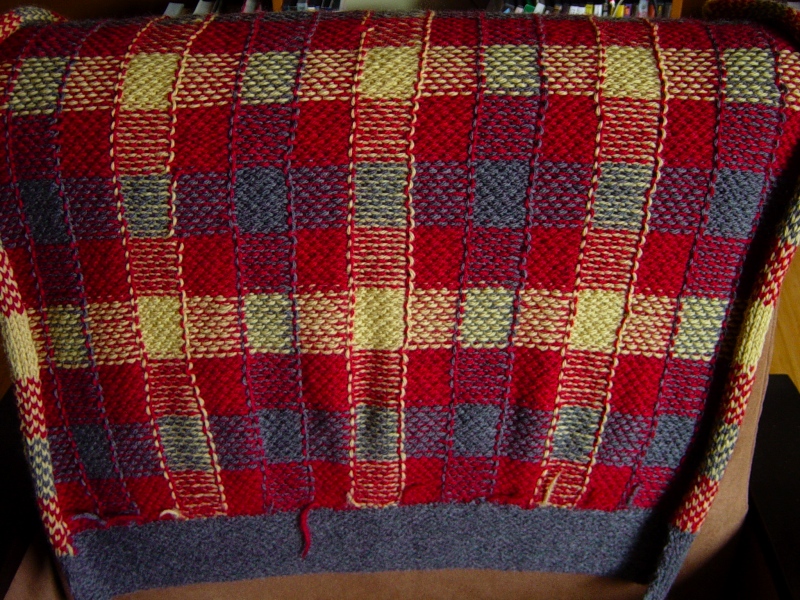 And then came the fronts...